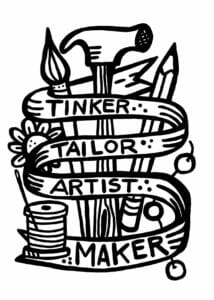 Join us in May 2019 to encounter new experiences, have inspiring conversations and create with like minded individuals.
Daily "Hello World" morning sessions with consummate speakers and entertainers. World class "Studio Sessions" with skilled Educators from across the USA, Canada and Australia. Weekend "Creator Show" featuring artists, makers, and vendors.
Gather in Redwood City to seize each day and make it great. It is time to come together to bang the drum and REVEL in connecting and creating.
We are no longer retreating: We have arrived.
Tinker Tailor Artist Maker: The Event for all Creatives
Wednesday May 1 – Monday May 6, 2019
Pullman Hotel and Resort
223 Twin Dolphin Drive
Redwood City, CA, 94065
All Eat Cake Create Events provide an opportunity to give back and in 2019 we will share our artistic goodwill with local Redwood City charities.