Between the Pages with Sharon Payne Bolton
Known for her detailed classroom setup, papers, treasures and trinkets … this Sun Valley, Idaho artist is coming to Sydney to celebrate her Birthday and to share her love for books and boxes.  
Join us for these unique immersion opportunities.
Friday, March 15 2019:
Inside the Box
Price: $85
Saturday, March 16, 2019: 
Between the Pages: Asian Triptych Reliquary
Price: $180
Class Descriptions below.
Experience
No experience is necessary.  These workshops are for everyone.
About Sharon Payne Bolton
Sharon Payne Bolton's mixed-media work invites the viewer to step into a mysterious past, somehow familiar yet just out of reach. From her curiosity boxes to her artist books and paintings, she uses found objects such as keys, photos, maps, and letters to weave an intriguing narrative of a long-gone time both real and imagined. Her pieces have a provocative ambiguity and urge the viewer to be part of the artistic process by imbuing them with new meaning. They are cryptic history.
Sharon divides her time between her studios in Sun Valley, Idaho and the San Francisco Bay Area and has shown her work in galleries in both venues. She spent a year living in the south of France, an experience that greatly influenced her work as many found objects from her life there find their way into her work. She recently led a group to the South of France for a week long art retreat. Her work has appeared many times in the mixed media magazine Somerset Studio and she gives workshops at both of her studios.
She serves as a Master Educator for Art is You Mixed Media Art Retreats, and will be teaching with Art is You in Australia in the Fall of 2018.. She shows her work at art fairs in both Idaho and California, winning "Best Booth" at the Ketchum Art Festival in Sun Valley, Idaho in 2010, and "Best of Show" at the Mill Valley, CA Arts Festival in 2016. 
Travel | Accommodation
Hornsby is approximately 45-55 minutes from Sydney Domestic Airport.
Train Station pick up available.
Street parking available.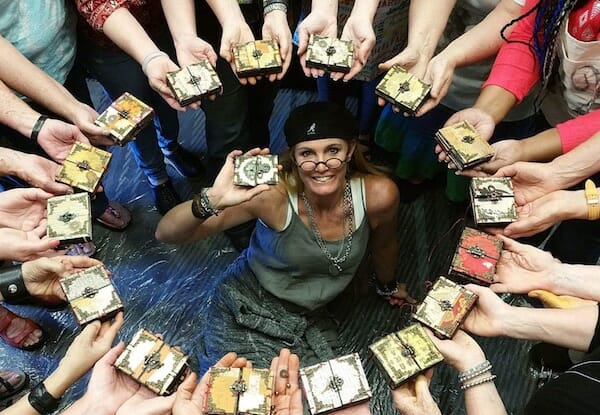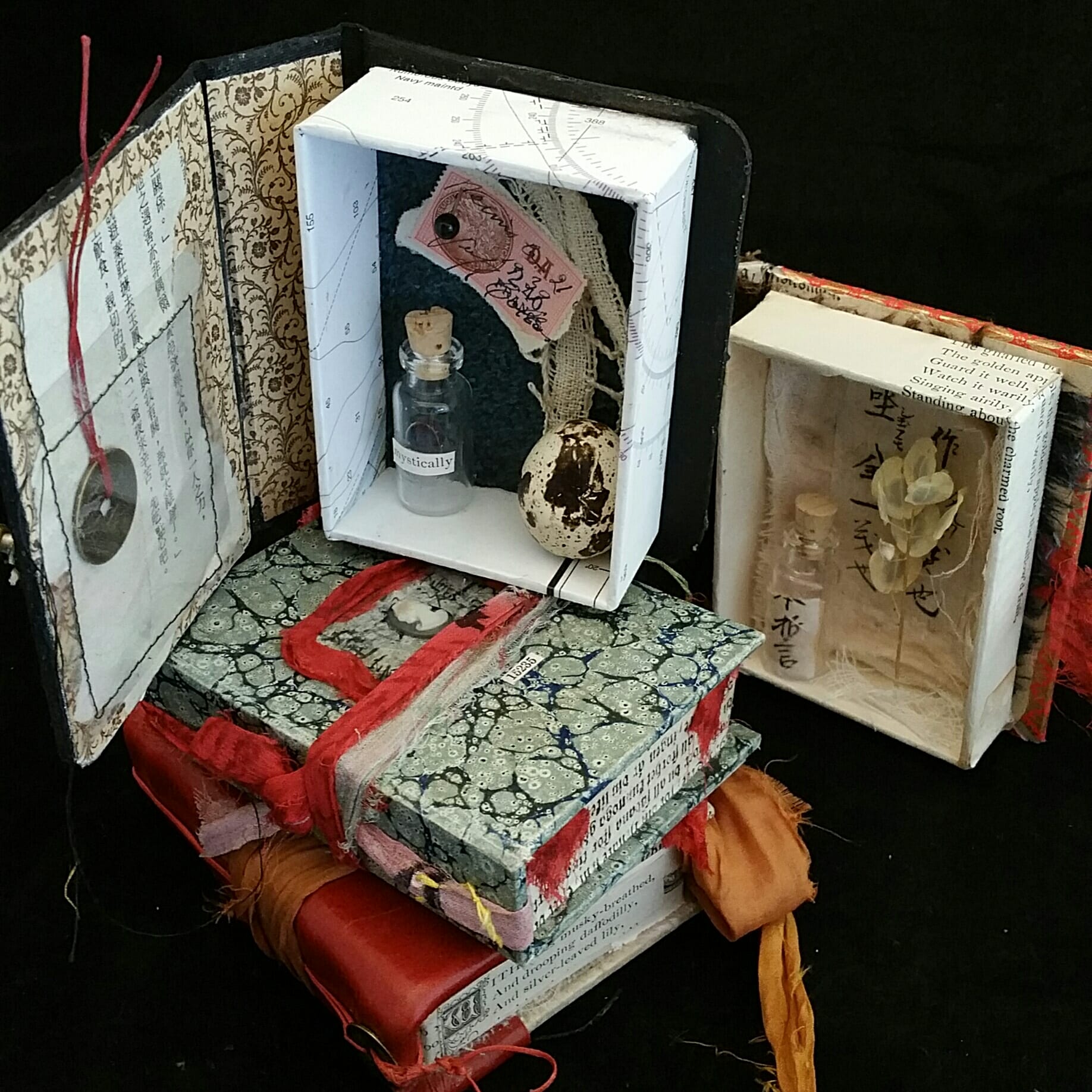 "Was so way impressed with your pre planning and well organized workshop that made the entire experience so amazingly VALUABLE and fabulous. Always good to take home something I will actually show off and KEEP!!!!! Proudly…..I must add! So many different applications can be accessed with these and you started it ALL! My top accolades and bravos go to you as I wave both hands from sky to floor in unison in your direction."
-Joie from Walnut Creek, Ca
Inside the Box
Friday March 15, 2019
6:30 – 9:30pm
Fee: $85.00 – includes cheese, crackers and drinks
Location: 3 Stephen Street, Hornsby
We will be working with many types of papers and found objects to create your very own little Artist book box. Inside the box you will create your own vignette, fill it with a memory, or possibly a personal item for your remembrance.  Sharon has designed this class so that there will be no measuring!
Immersing yourself in this workshop means you can arrive with a coffee cup in one hand, kit fee in the other ready for an evening of adventurous creating.  You do not need to bring any tools, glues, paints, or even a pair of scissors!!!  This is an immersion workshop!  All experience levels are welcome! 
Kit fee is $15.00 and includes:
Box kit – includes pre cut book board and plexi

Patterns for you to take home with you to make future boxes

Papers and pages from Sharon's private collection

All the supplies needed to complete your box

Tool kit for use during your workshop
Kit fee also includes:
PVA Glue
Papers, treasures and found objects
Use of paint
Use of rubber stamps and inkpads
Use of Spray inks
Between the Pages: Asian Triptych Reliquary
Saturday March 16, 2019
9:00am – 4:00pm
Fee: $180.00 – includes morning and afternoon tea.
Location: 3 Stephen Street, Hornsby
Join Sharon to create your very own Asian Triptych Reliquary book, Your journey will include the use of antique Chinese papers, found in San Francisco's famous Chinatown. (Found long abandoned down in the basement of one of the stores!) Your creation will have two spines using the Coptic stitch.  The result will be just like an object found in a forsaken Chinese tomb. Your workshop will also include access to Sharon's found objects and papers.
This workshop is designed for true immersion.  You can relax and take a break from a supply list – we have you covered.  How great! No supply list and no tools to pack! Please feel free to show up with your coffee cup and your kit fee. (Easy!)
Kit fee is $20.00 and includes:
Set of 19 pre-cut, collage ready book pages – (18 half pages & 1 back page)

A workshop pamphlet with the binding instructions (Coptic stitch)

Vintage papers  

All the hardware and supplies needed to complete your book
Tool kit for use during your workshop*
Kit fee also includes:
PVA Glue
Papers and findings
Use of paint for edging book pages
Use of rubber stamps and inkpads
Waxed Lined Thread for Binding
Use of Spray inks
*Use of Personal Tool Kit:
Cutting mat, Exacto knife, awl, scissors, glue brush, sanding block, needles for stitching, template for binding holes, and apron
Your Artist book will be made (loosely based) using the stitch designed by book artist Keith Smith and was taught to Sharon by her treasured artist friend, Marsha Shaw.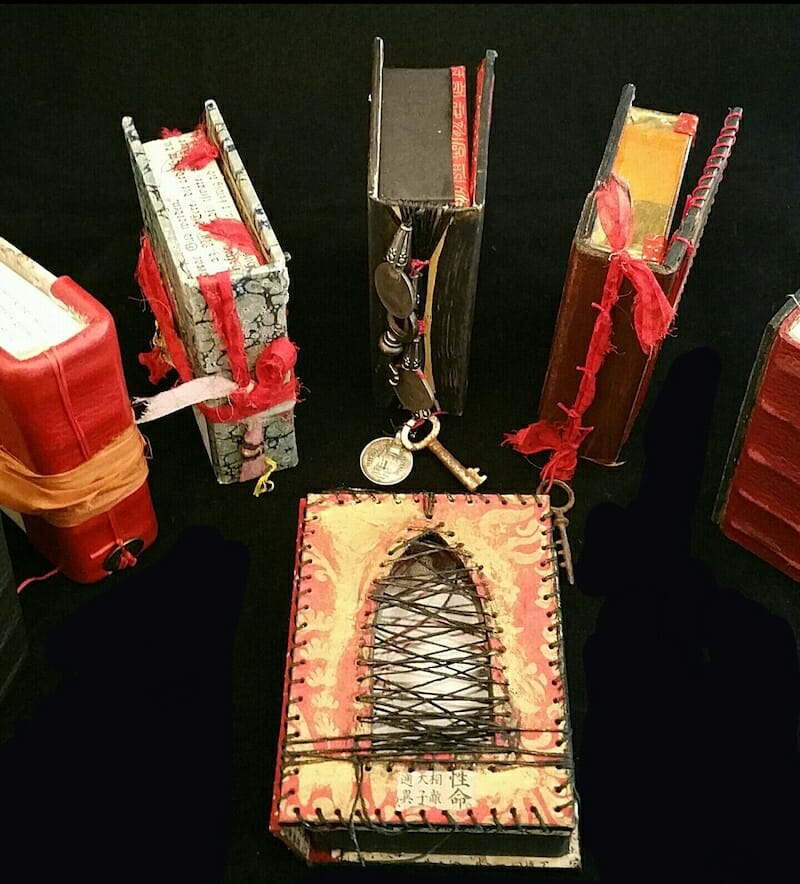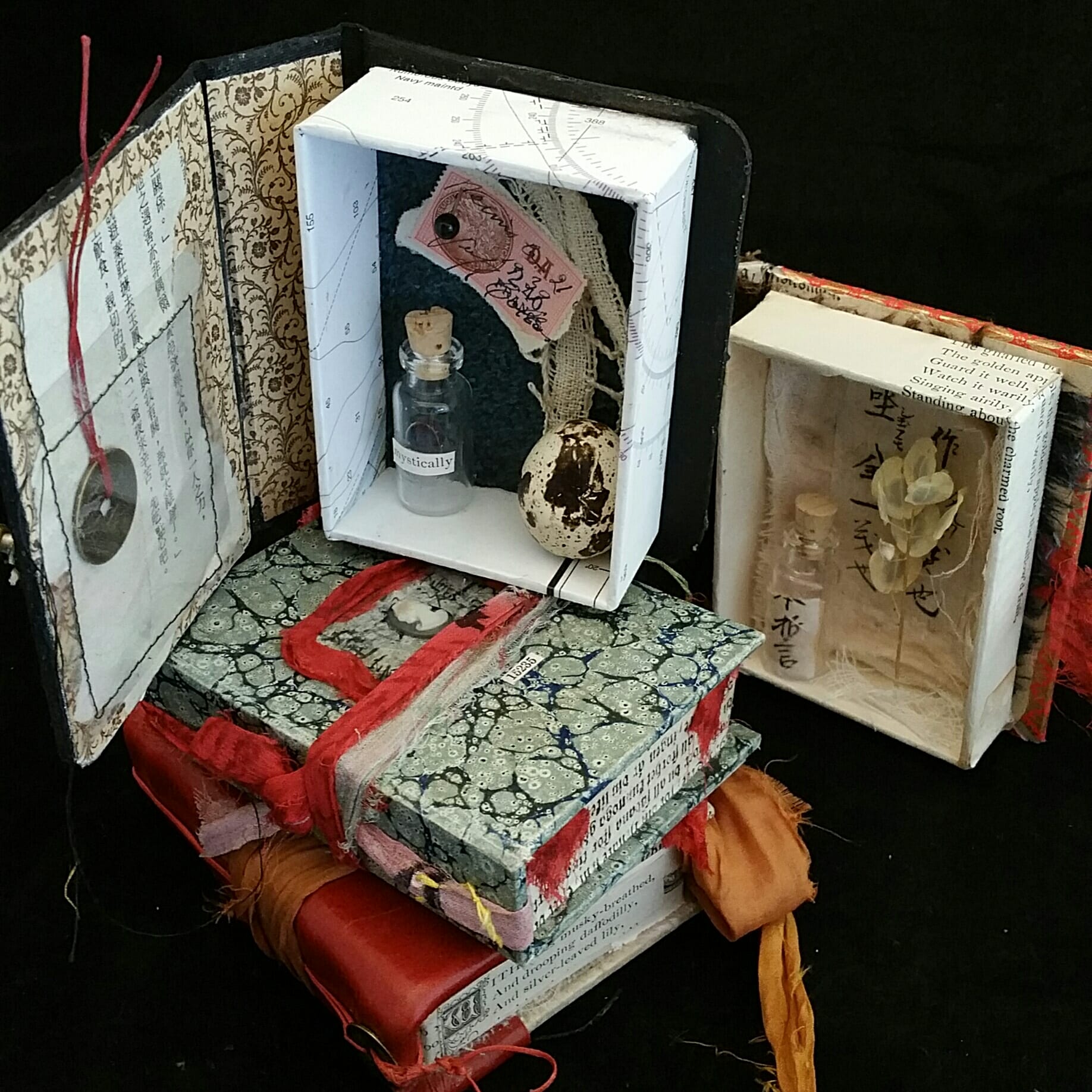 Cancellations
We know that situations can sometimes arise causing a change to your plans. It is not possible for us to favor an individual situation or circumstance over another, so we must maintain a standard business policy for all and with no exceptions.
30 Days from the time of registering – Full Refund available
After 30 Days: There are no refunds on Classes with International Teachers as we Pre Pay the Teacher…if for some reason you are unable to make the class – you can either resell your seat and let us know who will be taking your spot, or contact us to see if we have a waiting list.