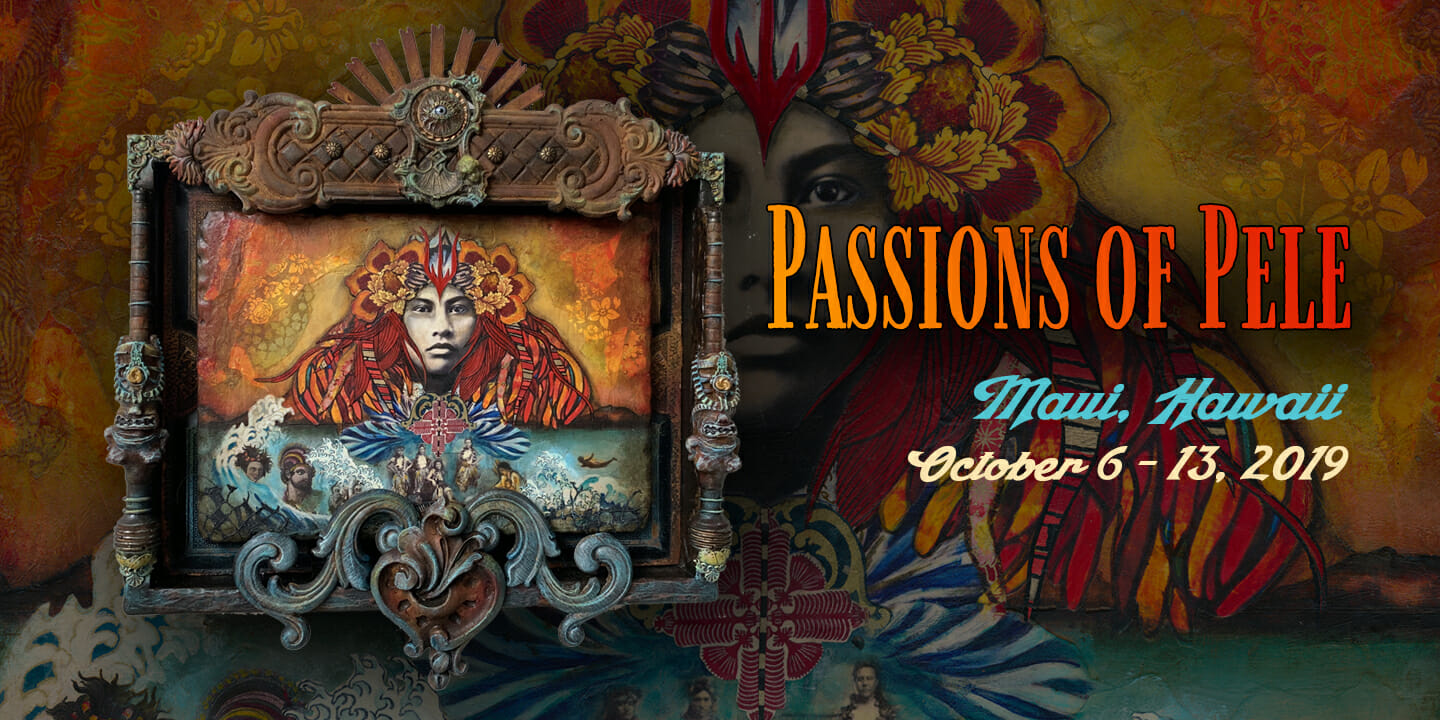 This October we invite you to join us as we explore the beautiful "Valley Isle" known as Maui.  As  the second largest Hawaiian island, Maui is beloved for its world famous beaches, the sacred Iao Valley, views of migrating hump back whales, farm-to-table cuisine and the magnificent sunrise and sunset from Haleakala.
Your invitation to immerse yourself in the history and culture of the island and the historic town of Lahaina includes delighting in exclusive dinners, exploring organic farms, fresh fruit, enjoying a cocktail at sunset over looking Kapalua Bay, discovering local artisans, and of course no experience would be complete with lessons in leis making, weaving and hula dancing.  Bring your partner or a friend – they can join in for all meals and experiences.
Enjoy Maui as a local.  We will have opportunities that are not open to general public, explore places that are unique and all the while enjoying a seat in our own light filled studio space at the historic Pioneer Inn, Lahaina.
We hope you and your partner make a plan to join us this October.
Aloha
Andrea and Sallianne

Historic BEST WESTERN Pioneer Inn
658 Wharf Street, Lahaina, Maui, HI 96761
Call us Toll-Free 1-800-457-5457
Email
Dates: October 6 – 13, 2019
Commencing: 6:00pm on Sunday October 6, 2019
Concluding: 9:00pm on Saturday October 12, 2019
Workshop Fee:
Payment may be made in full or a deposit and additional 2 payments.
Full Fee: USD1825
Deposit and 2 equal payments
Deposit USD625, Second Payment USD600 (May 30th), Third Payment USD600 (July 15th)*
Partner Fee: USD500
Workshop Fee includes light fruit breakfast each morning, all dinners (alcohol separate) except one and lunch on our excursion day.  Fee does not include airfares, ground transfers, accommodation, lunches on class days or travel insurance.
* Please review cancellation policy below and consider taking our travel insurance.

The Pioneer Inn in Lahaina, Maui, captures the ambiance of the whaling days and the plantation era, with architecture that evokes the tranquil lifestyle of turn of the century Lahaina while offering all the comforts and convenience of a modern hotel.
Attendees must secure their own accommodation using the following information and phone numbers.
Event Room Type: Queen Room (there are some twin rooms too)
Checking in October 5 and checking out October 13 (or 14)
Rate is $163.62 plus taxes
Toll Free: 1-800-457-5457
Booking Code: ARTIST TALK STORY

Restaurant in hotel, open daily
Historic whalers saloon with daily happy hour
Twenty-four hour front desk
Free high speed internet access
Free parking
Outdoor gazebo and courtyard
Outdoor pool

The Pioneer Inn is a contributing building in the Lahaina Historic District. This historic district in Lahaina, Hawaii, on the west side of the island of Maui, was declared a National Historic Landmark in 1962.
Note: Accommodation at The Pioneer Inn is located on the second floor, accessed by stairs only.  We have staff available to assist with luggage on arrival, departure and when required during class times.  The studio / classroom is located on the ground floor.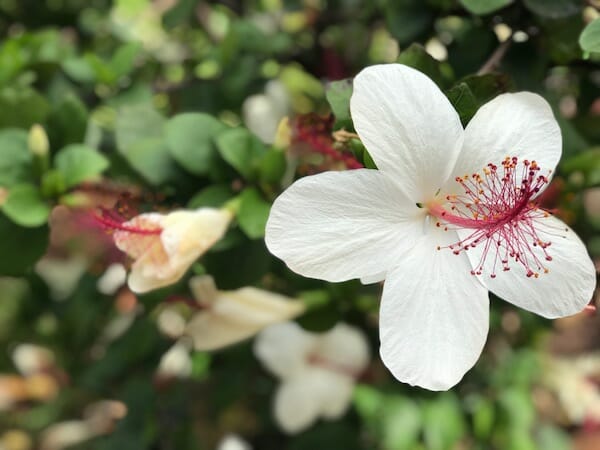 Travel:
Kahului Airport (OGG) is the Maui's main airport and the one we recommend you fly into. Many airlines offer non-stop flights direct to Maui. You may also fly into Honolulu International Airport (HNL) on Oahu before heading to Maui on a short, 30-minute flight.
Transfers will be discussed in the Passions of Pele Facebook Group.
If you would like any support or advice about your air travel, contact our preferred agent: Emily Soutter via email.  While Emily is based on Sydney, she has vast experience with travel to Hawaii and is able to assist no matter where you live.
We also recommend you take out travel insurance. Most leading credit card providers offer travel insurance.  In Australia you can purchase Travel insurance through Emily Soutter at the time of booking your flight or through suppliers such as Australia Post.
Pele Goddess of Fire and Volcanoes: She who shapes the Sacred Lands. Goddess of Hula, Purveyor of Passion. Pele is both creator and destroyer and one of the most widely recognized deities in Hawaiian mythologies.
Now when you think of Hawaii, you are probably picturing a vacation in paradise, and you will definitely have that experience, but, Hawaii also has a rich cultural heritage with fantastical mythologies and traditions over 1500 years old. It is with these mythologies in mind that we are going to take a humble piece of wood and transform it to create a magnificent and ancient looking stone tablet depicting some of these beloved stories with our own twist of course. Combining traditional and contemporary methods we will explore the richly layered world of mixed media collage and assemblage integrating a variety of 2d and 3d methods to create something worthy of the Goddess Pele.
One such myth tells of Pele's Long Sleep and while she dreams and adventures, she discovers hula dancing, gets married, is enraptured, and alas is woken up. We are going to loosely base our tablet on one of Pele's adventures. Perhaps your tableau will portray something historical, perhaps something personal…the choice is yours.

Andrea Matus is a visual artist living in Vancouver BC who exhibits as well as teaches her unique combination of painting, collage, assemblage and sculpture throughout the world with collectors in Canada, USA, Europe and Australia.
In her art, Matus creates powerful visual statements of the role of women in both history and mythology. Through her culling of images from contemporary sources, historic iconography, travels and original designs, a sense of surreal worlds is evoked. Combining colour, symbolism and ornamentation: each motif is a transport to a different time, place and culture. Through her process, discordant shapes and designs are manipulated to find harmony where at first there seems none. A part of the human experience is created when these collections form new narratives and meanings.
The improvisational nature of collage coupled with the very deliberate method of painting creates a balance of spontaneity and premeditation in her work. Always interested in the pushing the boundaries of how different materials can be combined, Matus is forever experimenting with alternate ways of using contemporary materials, most recently materialized in her series of Optical Collages.
Your Experience:
This is a unique Immersive Class Experience.
Full Experience Inclusions USD1825:
Tea/Coffee, Breads and fruits each morning 

Dinners included for all evenings except Wednesday

Lunch on our excursion afternoon
Island experiences outside the studio
Explore local organic farms and enjoy fresh produce
Dinner and Swim at private Maui residence
Lessons in leis, coconuts, and hula
Sunset atop Haleakalā
Welcome 

festivities with local musicians and artisans  

Traditional Luau
Airport meet and greet (by arrangement)
Fee does not include airfares, ground transfers, accommodation, travel insurance.
Local Artist Experience USD600:
Tea/Coffee, Breads and fruits each morning 

Dinner and Swim at private Maui residence
Four Days Workshop and additional independent Studio time.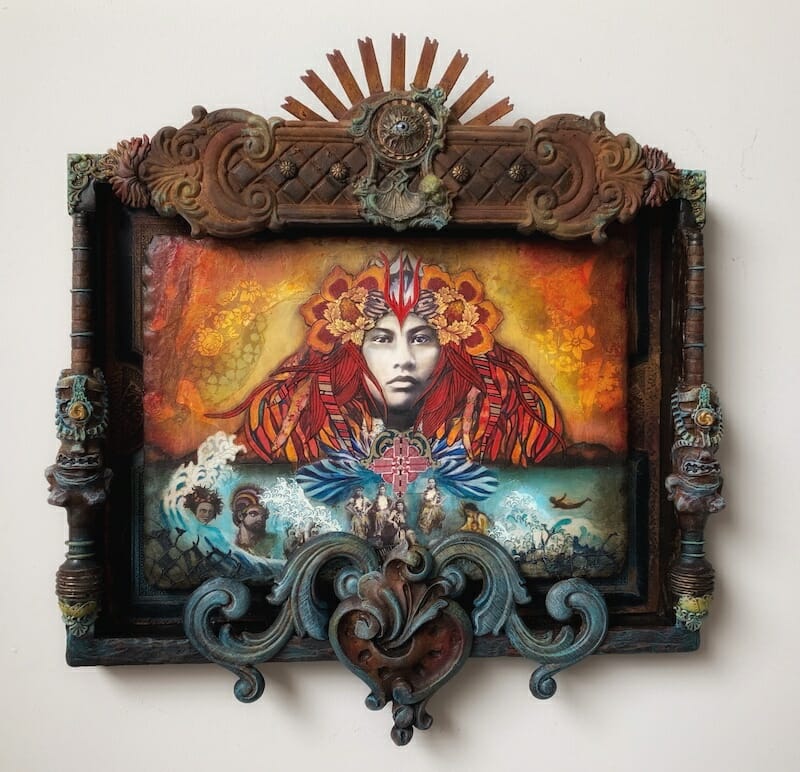 Itinerary:
October 5 & 6: Arrive at Leisure. Transfers to Lahaina can be arranged.
October 6: Welcome Festivities including artisans market, music and supper.
October 7: Full Class Day with dinner at a local restaurant on the water.
October 8: Full Class Day with dinner, swim and entertainment at private Maui residence.
October 9: Free to explore the island, book a cruise or visit a local beach. Options and ideas will be offered.
October 10: Morning Class followed by road trip for lunch, visit a special local Farm and sunset atop Haleakalā.
October 11: Full Class Day with Traditional Luau Dinner.
October 12: Morning Class, Artist critique and final intimate dinner.
October 13: Departure . Transfers to the airport can be arranged.
Itinerary subject to change.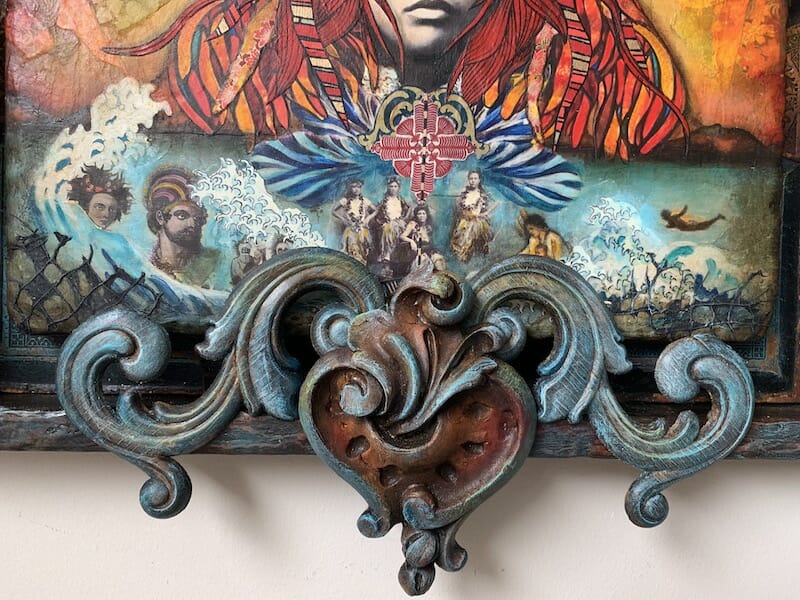 Cancellation Policy:
We know that situations can sometimes arise causing a change to your plans. It is not possible for us  to favor an individual situation or circumstance over another, so we must maintain a standard business policy for all and with no exceptions.
60 Days or More prior: Full refund of what has been paid, less USD500.  Partner Fee: Full refund.
60 Days or less: There are no full refunds for this retreat unless your spot can be filled. A $100 cancellation administration fee will apply if we are able to fill your spot.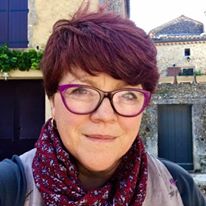 Sallianne McClelland
Your Maui Host
Sallianne has 30 years experience in event management and has lead major corporate and association events around the world. In the last 15 years, Sallianne has created leading mixed media experiences: Eat Cake Create in the USA and more recently in Australia.  Sallianne is the owner of Art Is You Retreats, Eat Cake Create and Tinker Tailor Artist Maker Experiences.  She has created opportunities for both Australian and US artists to dip their toe into the water of becoming educators and now works with over 50 Educators, Masters and Mentors.
With family on the island of Maui, Sallianne will endeavour to meet all your needs and requests.
Sallianne resides in Sydney, Australia and can be reached by email.
Registration is now open. 
Please note, there are only 20 spots in our inaugural Maui immersion.