ANGEL TAROT CARD READINGS
Jen Cushman
Friday May 3, 2019 – Day and Evening
Saturday May 4, 2019 – Evening
What are they?
Angel Tarot can be a powerful tool for those seeking guidance in their life from their spirit guides and angels. A reading can give compelling insight into relationships, career, finances and health concerns and also help you make more informed decisions and/or take positive actions steps in present time and the near future. My Angel Tarot cards allow me to tap into my intuitive energy so that I may see, hear and feel specific messages from my guides and angelic advisors to you.
What can I expect?
While your guides and angels might present challenges to you during a reading or point out areas of unease where you may not be living your best and highest self, Angel Tarot Card readings are almost always positive and helpful.
The guides will only illuminate challenges that, on a soul level, you are ready to hear and potentially work on. In addition, your angels and guides love to tell you what you are doing right in your life! I've found many times the cards pulled and the story told is uplifting and encouraging. The messages from Angel Tarot will provide insights and actionable steps/ideas you can take even if you're working through difficult issues or challenges.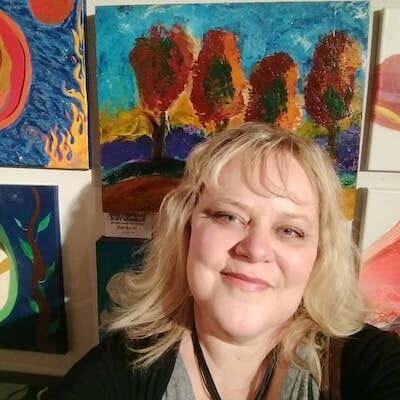 Why Angel Tarot instead of traditional Tarot?
Angel Tarot stays within traditional Tarot structure but has been reimagined with more positive and peaceful imagery and messaging. A few of the traditional Tarot cards that can be frightening to people, such as the Hanged Man, the Tower and Death cards have been renamed to better reflect the life circumstances, challenges and transitions more in line with 21st century life. Also there's no upside down cards in Angel Tarot, which typically means "caution" in traditional tarot. I enjoy the full range of this large (still 78 cards) deck and find that my angels and guides are better able to present a full story during a reading with so many cards to pull from.
As a Certified Angel Tarot Card reader, I primarily use this deck in my readings. I do have other Oracle Card decks and love to collect them. I will often feel inspired to look though my decks before a reading and bring one along as a little bonus. Again, this is an intuitive process but many times my guides will have me pull one card from an Oracle Card deck as a finishing note to the Angel Tarot Card reading. I strive to ensure all of my clients leave their reading feeling uplifted and infused with good vibes.
How much does a reading cost?
I have two readings to choose from:
$45 – a 30-minute three card past, present, future spread. This is a one-question reading. Sometimes your inner being and angels/guides are so ready for clarity and to work toward a solution or new adventure that this spread can take 15-20 minutes. Should this occur, we will explore one additional question together.
$75 – a 60 minute 10 card spread. This reading allows for a longer, more intuitive story to emerge in the cards. The reading still focus on one particular question or concern, but other areas of your life and questions you may have come into play during the allotted time. For example, your main question might be about your relationship, but other cards regarding family, health or career can appear in order to illuminate how these other aspects are interwoven and directly apply to your question.
QUESTIONS AND BOOKINGS: Email Jen Cushman