Donna Downey | Greater Sydney Workshops
Figurative and Flowers  
The daffodil bulbs are exploding from the ground.   The much-loved rhododendron in its vibrant pinks are starting to bloom, while blue hydrangeas, purple jacaranda's and blossom filled trees line our streets. 
This is how we herald in Spring in Sydney.
You are invited to a very special two day workshop with International painter, author and designer – Donna Downey
Venue: Private Home, Hornsby, New South Wales
Dates: September 28 and September 29
Times:  10:00am – 5:00pm both days
Price: Early Bird before June 30: AUD 645 | After June 30: AUD 655
Experience
Painting experience is helpful but certainly not necessary
Whether you are a beginner or a seasoned professional artist, it is always inspiring to have a mix of skills and people who are passionate about various mediums for creating along with those who want to try their hand at something new.
Figurative & Flowers is a two day immersion. Healthy morning and afternoon breaks, luscious lunches are covered, group supplies are included, including an apron.  No fancy clothes needed. Just join us.
Inclusions
A two day focused Master Class with Donna Downey 

Dedicated seat, easel and table

Continuous coffee, tea and refreshments.

Nutritious lunches for two days.

Apron

Group selection of acrylics and oil paints available for use

Name badge and notebook

Paper Towels, Water Buckets, Baby Wipes

Optional Kit Fee -16×20" (41cm x 513⁄4cm) or larger canvases. Pre Primed with a single coat of red acrylic paint.
Class Size is limited to 20. 
Travel | Accommodation
Hornsby is approximately 45-55 minutes from Sydney Domestic Airport.
Train Station pick up available.
Street parking available.
Master Artist: Donna Downey
Donna Downey is a New Jersey native now living and working out of her home studio in Lincolnton, NC. As a painter, bestselling author, instructor and all-around creative force, she is a born experimenter, blending and transforming both traditional and unexpected elements into meaningful pieces of self-expression.
A former elementary school teacher, she has synthesized her love of teaching with her passion for art and brings this to women via workshops and events around the world. Donna is consistently on the leading edge of taking risks that push the creative envelope and empowering others to do the same with their art.
Her work can be found in private and public collections around the world.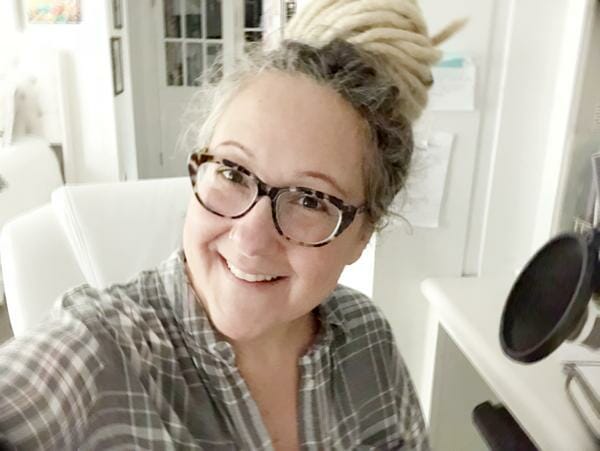 "My work is evolutionary, an ever changing palette of colours in constant motion. As a painter, I find the process of applying paint to canvas a bit sexy. Intimately developing a relationship to the movement across the surface and losing myself in the strokes of colour the brush leaves behind.
Because my art takes root in its colour, I begin placing the colours like a map intuitively allowing the composition to reveal itself. The paintings develop in response to the energy created and it is as meditative as it is necessary to my personal connection to my art. I love a challenge of switching between media and it is not unusual to find me varying my canvas size from 6 inches to 6 feet."
Figurative & Flowers
This is a two day painting experience that marries my two most expressive subject matters, the human figure and flowers
Day One: The first days lesson will be a guided lesson; live painting and demonstration explaining my painting process for composition, paint sketching, color mapping and refining the details. We will paint together and I will be helping you develop your canvas based of my painting model.
Day Two: We will begin a new painting. I will be painting along with you, modeling and demonstrating techniques, as well as, encouraging you to paint a figurative composition of your own choosing. I will be hands-on for guidance as well as encouragement for both days as we paint together.
Kit Fee of AUD40 :  includes access to group paint supply plus prepared canvases for your workshop.  Payable after registering.
All experience levels are welcome. Come treat yourself and join the fun!
Payment Options
Payment for your workshop can be made by bank transfer or credit card/paypal account.
Bank Transfer
BSB: 062181
Account: 10778499
Note: Surname
Please email us to advise of your payment and to secure your spot.
Credit Card | Payment in Full
One payment of $645.00
Credit Card | Part Payment
Five equal monthly payments of $129  with final payment due on or before June 30 Signing up for this option is available until end of February.
Cancellations
We know that situations can sometimes arise causing a change to your plans. It is not possible for us to favor an individual situation or circumstance over another, so we must maintain a standard business policy for all and with no exceptions.
30 Days from the time of registering – Full Refund available
After 30 Days: There are no refunds on Classes with International Teachers as we Pre Pay the Teacher…if for some reason you are unable to make the class – you can either resell your seat and let us know who will be taking your spot, or contact us to see if we have a waiting list.
Supplies
3-5 inspiration images that include figures & flowers or figures with flowers.

2 – 16×20" (41cm x 513⁄4cm) or larger canvases Pre Primed with a single coat of red acrylic paint.
NOTE: I like to work on canvases that have been painted with a coat of cheap red acrylic paint as a base coat. I find that I am drawn to cool colours and this red under-painting helps add warmth to my finished piece. This is a totally optional step.
Acrylic and/or oil paints (both are welcomed)
Oil Painting Supplies – Donna's favourites
Acrylic Painting Supplies – Donna's favourites
Suggested paint colours, but not limited to:
Titanium white (this is the only colour I would bring extra of)

Yellow ochre

Raw umber

Burnt sienna

Warm white

Magenta

Cadmium red/cadmium red light

A couple favorite blues/teals

A couple favourite greens

A couple favourite yellows

A couple favourite pinks/purples


A couple favourite yellows/oranges
Oil painters will need to bring the following:
Paint palette

Paint brushes (some big & some small. Comfort is key use what you prefer as far as 

sizes and styles. I use rounds, flats and filberts as I work interchangeably in sizes 2-12)
Gamsol + container to put it in (I prefer Gamsol brand because it is solvent free, however any paint thinner turpenoid-like product is perfect)

Gamblin alkyd medium or oil medium + container to put it in (optional). I like to 

use a medium when I work makes the oils creamier.

Rubber gloves (optional
Acrylic painters will need to bring the following:
Paint palette

Paint brushes (some big & some small. Comfort is key use what you prefer as far as 

sizes and styles. I use rounds, flats and filberts as I work interchangeably in sizes 2-12)
Donna is also teaching in Melbourne and Queensland