Mobilising for Mogo: The Story
In the first 3 weeks of 2020 we secured and donated over $100,000.00 in grocery, petrol, hardware, art, school supply vouchers and 7 tonne of camping and customised grocery, baby, bathroom, pet food.
Phase 1: Delivered January 11
Within four days over 600 items were collected which included custom, labelled tubs of groceries, bathroom, pet and baby supplies plus all the requested camping gears and stoves.
Two shipping containers secured and funded onsite at the Boomerang Meeting Place.  Ensured that our truck had dedicated storage.
$2,555 to Mogo Public School P&C: Raised in 7 days to cover any back to school costs.   
Phase 2: Delivered January 31
$3,100 – Mogo Local Aboriginal Land Council: International artists Seth Apter and Kecia Deveney launched an art fundraiser selling their art to raise funds for the artists who lost their work and supplies.
Phase 3: Delivered February 1
Custom collection of items for School, Vouchers for school supplies, plus a collection of requested Tools and Hardware store cards.  Delivered a beautiful outdoor Mini-Kaze Mud Kitchen for the pre-school and supplies for the kids.   
$2,000 – Eurobodalla Woodies:  Hardware Cards for them to purchase new tools to keep functioning.
Phase 4: February 14 – Easter
Working directly with the Chamber we are launching "Love Mogo in February" with a program that will support the Mogo Village Chamber, Mens Shed, Public School and Boomerang Meeting Place.
Sallianne McClelland – Email
Donating to these organisations through the Humanitix platform, ensures that all funds go directly into their individual bank accounts, providing immediate access to the money.
Humanitix is a registered charity. It is funded by the Atlassian Foundation and NSW Government. In 2018, Humanitix won a $1 million prize in the Google Impact Challenge and Westpacs Top 20 Businesses of Tomorrow, which led to rugby great and Wallaby legend John Eales becoming an ambassador.
Created by the Mogo Village Business Chamber, the GMFR are getting things done down in Mogo.
There are three key areas that they are focussing on: Supporting the businesses that were destroyed in the fire and getting them back up and running in temporary business portables;
Seeking out the residents who have lost their homes, sheds, cars and learning what support they need and delivering to them; Coordinating volunteers from across the Shire and further afield who are keen to lend their skills and time to rebuild this beautiful town.
They have asked us to support and assist them to achieve these three important goals and get the people, businesses and Mogo back and fully functioning as quickly as possible.
Your donation will likely purchase anything from tools, to business equipment, household items to a cup of coffee and hot meal.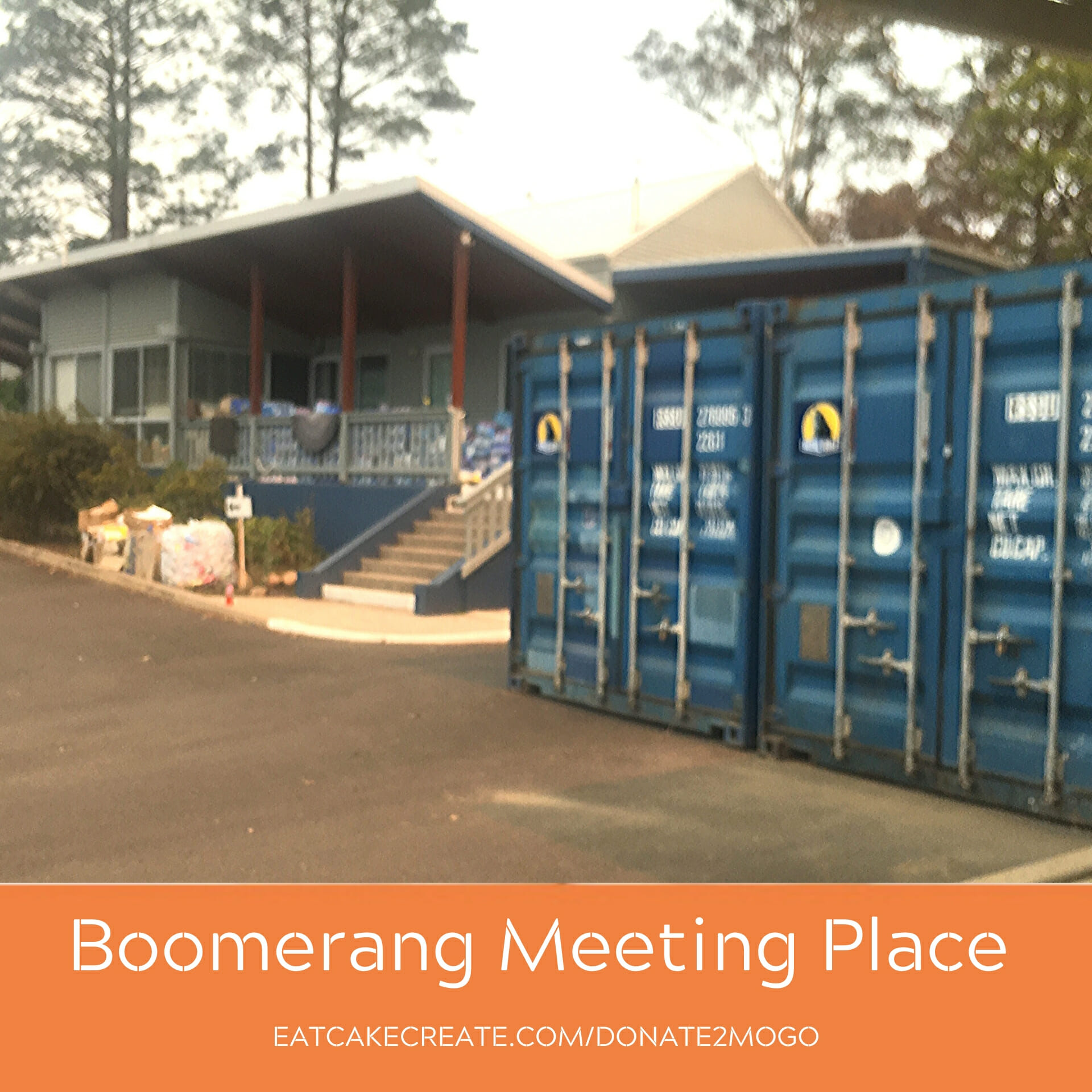 As one of the main hubs in this town of 320 people, the Boomerang Meeting Place became the central point for donations in the aftermath of the NYE fires. In this image you can see the two shipping containers we donated to store our original delivery of goods.  In a few weeks the Boomerang Meeting Place will once again return to its main purpose.  A place where the community meets for various activities: Womens Art Group, Community Health Group, Quilting Group and a new Youth Group.
Coordinated by Aunty Maryann Nye, the operation of this venue has been tested these past few weeks and we would like to help Aunty Maryann restore some order, supplies and equipment as the need for a community hub is now even more important than before.
Your donation will support the groups that meet there.  That support might be with the purchase of fabric or art supplies, student supplies to support the youth group or cover the cost of morning tea for the elderly that meet for their health check.
..They are a non profit (Australian Men's Shed) organisation whose activities include: make toys for under-privileged children, provide woodcrafts to aid fund raising for others, provide educational lectures plus produce and sell woodwork items in order to accumulate funds for the purchase of materials and woodworking equipment.
They lost their home, their tools, their wood supply and their finished toys but they haven't lost their spirit.
As well as sharing and fostering woodcraft expertise, the Guild provides a health-promoting space for regular, positive social interaction for members, whose average age is early 70s.
Insurance will cover major tools but they need financial help to secure new premises, replace equipment, and purchase building materials With your donation they can recover and eventually return to operational status, to keep providing for their Community.