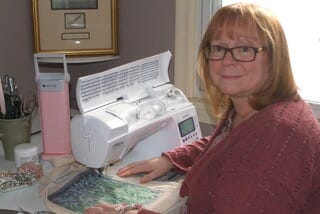 Colleeen Krafjack Peck
Global Ambassador
When I was young both my grandmothers and my mother sewed and I loved to play with the scraps.  They used cottons and shiny fabrics and fabrics with textures.  I would make clothes for my dolls with them, and I still have one of my first dolls wrapped in a piece of velvety fabric.  I started quilting in 1987 and I played with different areas of mixed media throughout the years, but my heart kept drifting back to fabric.  I use fabric now in most of my creations.  My speciality is to create new aprons using old half aprons and vintage tea towels, bureau scarves, and old trims and buttons.  As I am creating them, I imagine the stories of the women and men who created and hand stitched the original pieces.  I give each apron a name and a story as I am giving it new life, the apron needs a new identity.
Linda Lucas
Australian Ambassador
I am a Mixed Media Artist from who has made Canberra Australia home for over 20 years now. I have created from as far back as I can remember – starting with knitting at 6 years old, winning colouring competitions at 10 years old. I have gone from being addicted to obsessed with paper and anything associated with it – and I am not looking for a cure anytime soon! I am very honoured to have been published in over 50 magazines along with a few of books. My journey has been an evolving one – from card making, scrapbooking, altered art to Mixed Media and still transitioning – thankfully it is with the support of my wonderful family.
I am very blessed to have been part of the first two Australian Roadshows – to say they are life changing is an understatement – they are that and more. Not only is there every opportunity to learn from the most amazing people who are among the best in their fields but there are opportunities to connect – heart connections that remain with you long after the Retreats are over. Happy to say I have found 'my tribe' and there is room for you!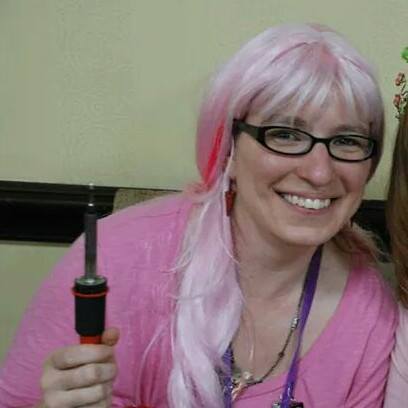 Patricia Kurowski
USA Ambassador
Paper, metal, wood, paint, fabric, yarn, lace, etc … I love creating with all of them and sometimes all at the same time. I have been creating since I was a young child starting with crocheting and making furniture or clothes for my dolls. My Barbie dolls had chairs made out of Popsicle sticks, that I still remember making and playing with. Now I have wooden chairs in my backyard we made and I can sit on.
I love all forms of media and have no problem creating with all of them and really can't choose any one that I would rather do over another. And I wouldn't have it any other way, it's fun filled and exciting, just like me.
I am not a professional artist nor have I had any formal training but I just love being able to make something that will make others smile and learning a new and fun way of creating or working with a new medium. Giving my family and friends something I made or sitting with them and creating together are two of my favorite things to do. There isn't a family gathering or watching of my niece and nephew that doesn't include an art project I put together. I get to show them what I have learned and they get to create and express themselves.
I am so very happy that I saw the two ruby shoes and Art is You under them on a web site I was checking out and clicked on the link to find out more. I am not sure what gave that shy quiet girl the courage to sign up and take part but I am so glad I did. It has been life changing and has given me some of the best memories and experiences. Not only have I met the most wonderful people that I am so happy to be able to call my friends, I have also learned so many new things about art and myself. I have found my yellow brick road that lead me to fun, friends and Art.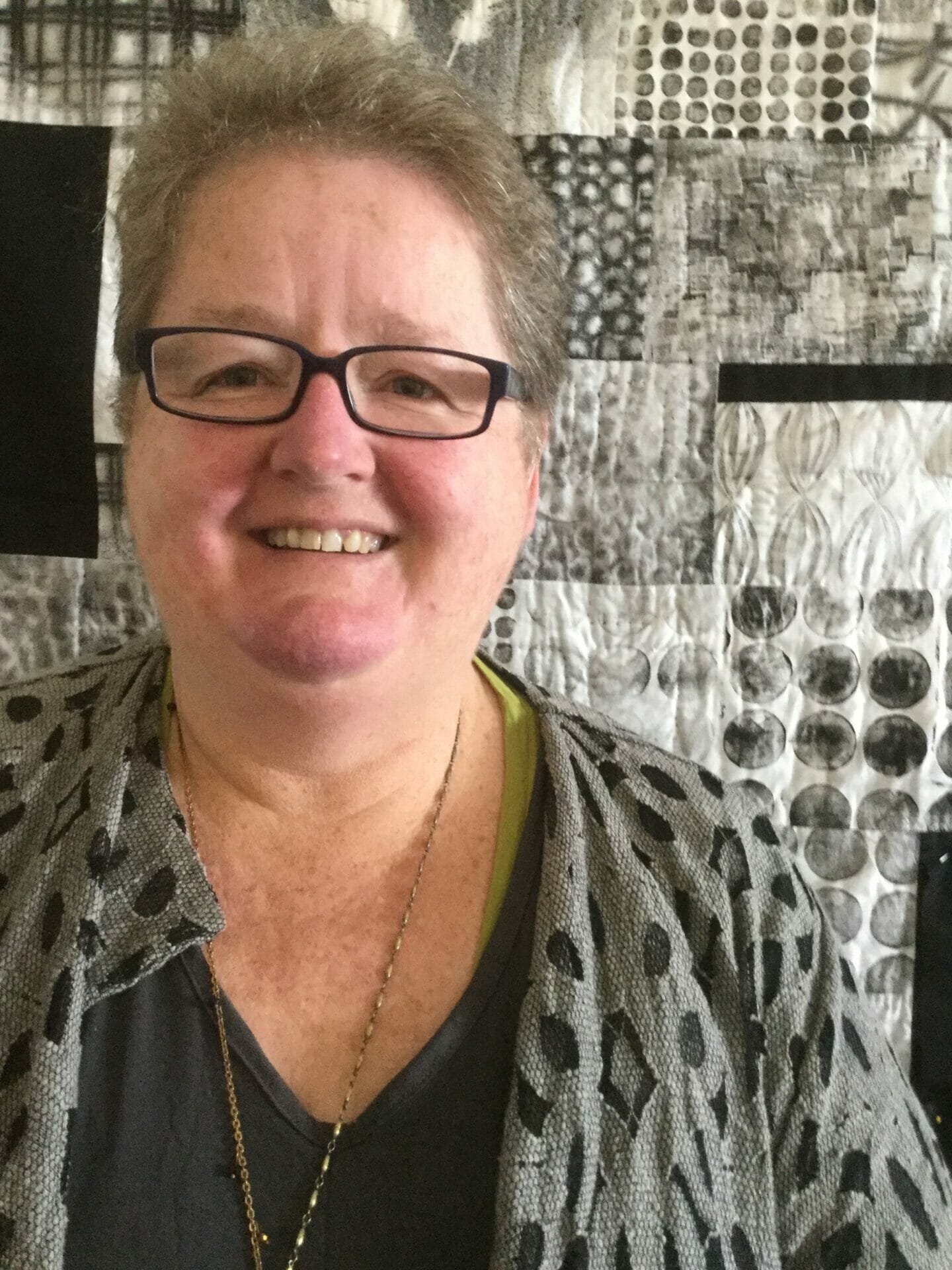 Fiona Jellie
Australian Ambassador
I am primarily a Textiles Artist, living in country Victoria, Australia, who loves nothing more than including mixed media elements in my work.
As a child, and later as a secondary school student, I was always captivated by stitching and crafts of any type. Needles, pins and threads of all the colours of the rainbow became my 'tools'. I haven't stopped since.
University saw me train to be a Home Economics teacher, which I still practice today. In 2015, when planning some long service leave, I saw a post on Facebook advertising the first Art is You event in Melbourne, Australia. With a lump in my throat I thought why not and enrolled in a felting workshop. Going to the event was going to be so far out of my comfort zone but I knew I needed this.
At the same time I had recently begun daily journaling and had met an on line friend who lived only an hour away. After discussing it with her we decided to enrol in another of the classes together…a creative art class. Me doing art, painting and working with collage? Unheard of!
Well, the week changed my life. For the first time ever I was with people that understood my passions. I make friendships that I'm blessed to say continue today, even though we haven't met in person since.
Since then the creative world has opened its arms to me. I've been a guest artist at the WA Craft Show in Perth, Australia, exhibited my work in numerous exhibitions and have my work purchased for private collections. I attribute much of this to Art is You.
As I have often said, "Do yourself a favour: come and join us. You will be welcomed with arms wide open, work with the most incredibly talented tutors and be part of this amazing tribe."